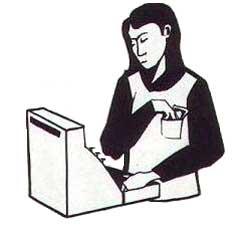 Workplace theft hits UK retailers
- The
Centre for Retail Research
said the UK was one of the worst countries in Europe for stealing by employees, costing employers £1.5bn last year (
BBC News
). According to
Professor Martin Gill
, a criminologist at
Leicester University
, several circumstances lead to employees doing it - when staff feel marginalised and not attached to the organisation, when they have some sort of gripe about the way they've been treated, the culture of the organisation, and just having the opportunity to steal things. An audio version of this article is also available
here
(see link on right hand side of page).
This article appears to contrast with an article that appeared in The
Guardian
last month that suggests
UK workers are 'among most honest in Europe'
(Susan Smillie). Recruitment company
Kelly Services
said employees in the UK were generally more ethical in their behaviour at work than those in countries such as France, Germany and Spain. The claim followed a
survey
of 19,000 workers in 12 countries across Europe.
Two other work-related articles caught my eye today. The first outlines the lengths
Marks and Spencer
executives have gone to in arresting flagging sales. In
Guru fires up M&S staff in bid to lift sales
David Hencke of The
Guardian
reports on a plan to "re-motivate" 56,000 staff where one event alone is said to have cost over £10m to arrange! The second article is quite disturbing in that it looks at the suicide rate amongst vets - many an inspiration for animal-loving children - and how the suicide rate for the profession is nearly four times the national average and double that of doctors and dentists. See
A vet's life - stresses great and small
(
BBC News
) for more detail.